Have you heard of the saying  'What goes around… comes around'?
Well, that's what Karma is all about.
Pay it forward-
Kindness and generosity to others come back to enrich your life in ways that may be completely unseen or expected.
KARMA KINDNESS  is dedicated to RANDOM ACTS OF KINDNESS.
Some call it PAY IT FORWARD -we weekly pay it forward helping the community. Sept 2019 we paid for Lexie's Bike. Approx.. $2000.  What an amazing world this would be if we all did random acts of kindness. Giving from the heart.
to read lexies story  https://celebratingabilities.org.au/lexi-to-fly-to-roll-bounce-and-more 
SEPT 2019, fundraiser, Celebrating abilities fundraiser paid for Lexie's bike –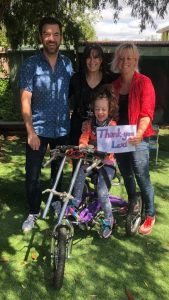 Lexie is so happy 😁 thankyou Margie president and founder of celebrating Abilities & Katija Zela Vlatkovich Board member (MisFit Digital) for organising our Sept 2019 fundraiser.
This is why we do what we do!
Seeing the smile on Lexie's face is priceless.
WE will have the video on our youtube account soon. meanwhile, check it out below.