Good360-Social-Impact stories – Scroll down to read our impact stories of individuals, families, and communities whose lives have been transformed by Good360 donations. Thank you Good 360 we are grateful.
Good360 is a Not for Profit that connects people in need with brand new surplus goods donated by businesses.
We are a matchmaker. We connect new goods to over 2,800 charities and disadvantaged schools in Australia wide and they gift them to vulnerable people in their communities. To date, we've put over 20 million new goods in the hands of people in need, providing hope and dignity.
We are so excited, grateful to have received all the goods, donations and to see the social impact of the goods we received through Good 360.
Good 360 you have brought JOY, Happiness & Hope to all our clients. All products went to Kids, Adults, the elderly, catering for all abilities.
We distributed the wiggles books, cables, tops, Colgate packs, wy river t-shirts, and kids nippers rashies, spotlight BPA Free water bottles, snorkels flippers, goggles, VIC swim, bathers, (Asop ), women & seniors empower packs, Colgate packs,  to single mums from domestic violence backgrounds, clients with mental health challenges, down syndrome, Ndis disability, and special needs clients, disability workers, cerebral palsy, kids with cancer, disabilities, special needs, and who are experiencing marginalization in their lives.
"Thank you so much Good 360 we are blessed for your kindness !"  Social impact stories here- https://catalog.good360.org.au/impact-story/index/history/
Making people happy, giving them Hope during the Covid-19 Melb lockdown. For a full list of programs click on our programs page.  https://celebratingabilities.org.au/programs All posts below are from our Instagram page https://www.instagram.com/celebratingabilitiesmelbourne/
Celebrating Abilities Inc, Not For profit committed to enriching the lives of our local community by providing unique and joyful physical experiences for people living with disabilities and special needs; whether it is a physical, acquired, mental health, intellectual or emotional as well as people experiencing marginalization in their lives. We provide Support & awareness for Those With living with disabilities and special needs.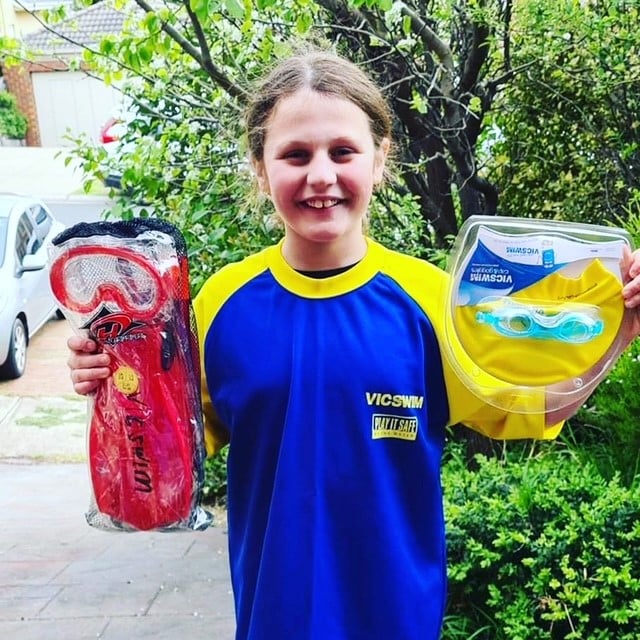 HOPE! During Melbourne Victorian Lockdown 2021-Celebrating Abilities Inc-Thank you Good360 Australia @vicswimsummerkidz @vicswims for your amazing donation of brand new assorted swimming accessories & apparel. You have helped so many kids and put a smile on their faces- made them so happy during the lockdown in Melbourne. Kids goggles, flippers, bathing caps, T-shirts, and storage bins. All have been donated to kids in Manningham, Templestowe, Bulleen, Doncaster, Heidelberg, Ivanhoe, Kew, Fairfield, and to our NDIS clients of all abilities @Celebrating Abilities Inc #ndis #ndisfunded #allabilities @celebratingabilitiesmelbourne #grateful #blessed #thankyou #good360 #good360australia – https://catalog.good360.org.au/impact-story/index/history/
Winter can bring isolation and hardship for women & seniors living alone or in care, give a heart-warming Empower Pack today to let them know they're not alone.Good360 provided Celebrating Abilities with Women Empower Packs filled with brand new goods which we distributed to our communities totally FREE! During the lockdown in Melbourne, we helped empower our ladies with free gifts to give them hope and joy. They loved the packs knowing that someone cares. Thank you Good360, you made so many women smile with joy and happiness.
Thankyou@good360_australia for our winter empower packs @celebratingabilitiesmelbourne #grateful #empoweringwomen #good360 #blessedandgrateful with Sharon and Veronica #love https://www.instagram.com/p/CTGzZKqJfkT/
Refreshed and Rejuvenated-Thank You, Good360 and Spotlight Foundation. We love our BPA-free water bottles – You have made over 100 of our clients so happy. Thank you so much. Celebrating Abilities Inc, Not For profit committed to enriching the lives of our local community by providing unique and joyful physical experiences for people living with disabilities and special needs; whether it is a physical, acquired, mental health, intellectual or emotional as well as people experiencing marginalization in their lives. We provide Support & awareness for Those With living with disabilities and special needs.  https://catalog.good360.org.au/impact-story/index/history/