Retreats – Camping programs for All Abilities and All Ages.
We support and empower all participants to achieve their goals through adventures in the community. All trainers are qualified, hold CPR first and Covid-19 policies, work with children, and have over 40 years of experience. Camps, wellness health retreats, and respite will run monthly. Activities may change monthly.
The best way to book in your respite and to discuss your loved ones needs is to give us a call on 0412 526 383 or send us a message with your requirements here.
What's on! Upon arrival - Welcome, then meet, greet & show studio facilities.
Friday night dinner. We cook together and prepare a healthy yummy feast.
Breakfast, lunch and dinner, snacks included
Adventure walks through the parks, exploring wildlife
Aerial yoga, circus, hoops, Lyra, ropes, silks, tricks, and exercises.
Art therapy  and when we can watch or swim with dolphins-  Sorento
Cat therapy – meet Magic and Azi
Pampering facials, manicures
Firepit toasting marshmallows – circle of hope, fun and laughter
Dance party sat night & movies
Functional fitness, exercises, gym, cognitive development, proprioception, balance boards, core strengthening, motor skills, strength, motivation, posture, Pilates, Rehab and more. Each camp changes to suit the client's needs. 
Support activities and respite details are organised at the initial consultation with participants' carers, family members, or parents. Service provider. One on 1 or 1-2. Camp rates include two nights, Friday and Saturday sleepovers and some activities. Please email us for more information on prices and line items. (respite care)
Evidence-based neuroscience programs
Respite Participant Stories
Sharon
Meet Sharon
Sharon attends camp respite care every month and loves the adventures. Often she doesn't want to go home. "Sharon says it's the best and loves Magic and Azi. I love Margie's cooking and the fun we have together. Sharon says I've been kayaking, swimming, painting, learning to cook, kanagroo spotting, movies, dinners, pet therapy, bush walks, healesville sanctuary, Badgers weir, cooking, massages, and my nails and feet painted."
Her mum loves the respite break as she never gets time independently. Sharon has Down syndrome-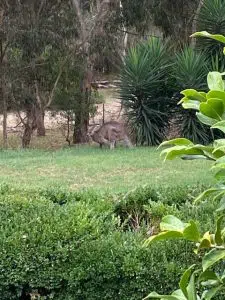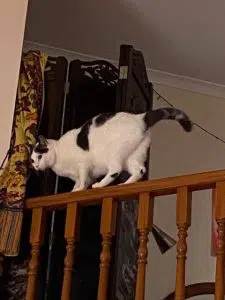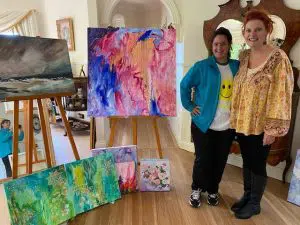 Nandita
Bonnie
Angie
Pauline