SEPT 2019, fundraiser, Celebrating abilities fundraiser paid for Lexie's bike –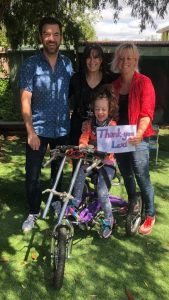 Lexie is so happy 😁 thankyou Margie president and founder of celebrating Abilities & Katija Zela Vlatkovich Board member (MisFit Digital) for organising our Sept 2019 fundraiser.
This is why we do what we do!
Seeing the smile on Lexie's face is priceless.
WE will have the video on our youtube account soon. meanwhile, check it out below.