We are a typical outgoing family of 4! You have Clare that's mum, Dino affectionately known as "Addy" and our 2 girls, Lexi 5yrs old and Summer, who has just turned 2yrs.
There is nothing our family will not try nor will we ever say no to an opportunity of a new experience however big or small, unique or typical.
Dino and I are passionate that our girls live life to the fullest, that they are compassionate and empathetic and have an understanding view of the colourful aspects our their community.
This is what we dream of in an ideal world….However, this is so rarely our actual reality.
We face a lot more challenges than the family,
Lexi our 5 yr old daughter suffered a massive brain injury at birth and as a consequence has been left permanently with Quadriplegic Cerebral Palsy.
In short, this is Muscle Movement disorder, leaving Lexi with extremely limited muscle strength and control. She requires equipment and Adult assistance to achieved every fine and gross motor skill and ALL of movements, actions and activities every minute of the day.
This has not however affected her cognitive /intellectual ability at all, which is a huge bonus. Thus Lexi is able to tell us what she loves to do, cooking, dancing, painting, singing, movement, speed and anything to do with the water.
The greatest challenges we do face as a family are not always Lexi's different abilities and the creative ways we have to think outside the square to keep her included.
It is, however, the lack of understanding and adjustment that society is incapable of making or willing to make to help her participate.
Our family approach is, if we can't find a way for Lexi to be involved in doing the activity then we don't do it. We would never think for a moment  to leave her on the sidelines
There are many activities we would love our girls to do and share together as all sisters do, but we are finding so often centres are just not equipped to accommodate Lexis complex needs.
Then we found VIBES Fitness Fitzroy and their incredible centre, offering everything we have dreamed of for our whole family, with the main focus to accommodate Lexi.
To put her needs first and to have the experience I never dreamed possible.
To fly…to roll …bounce…and more all with her little sister participating or watching in awe and running alongside her…saying …" look at Lexi she's up so high!" to see Summer cheer for her sister in excitement, these moments as a mother are rare for me and priceless.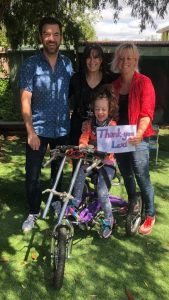 SEPT 2019, fundraiser, Celebrating abilities fundraiser paid for Lexie's bike –
lexie is so happy 😁 thankyou BNI Members of Action Referral and
Katija Zela Vlatkovich for organising our Sept 2019 fundraiser.
This is why we do what we do!
Seeing the smile on Lexie's face is priceless. 
WE will have the video on our youtube account soon. meanwhile, check it out.