Benefits of Exercise for Seniors and Aging Adults
We have over 40 years of experience working with elderly exercise programs, rehabilitation and pain management. neuroscience-based exercises, improving strength, flexibility, core workouts having fun feel great. Studies show that exercise has important health benefits, and it becomes more important as we age.   Our programs at celebrating abilities will motivate you and incorporate exercise into your life. Regular physical activity helps improve mental, releasing endorphins, decrease the risk of falls, strengthening your body, creating social engagement, improving cognitive function and physical health, both of which will help you maintain your independence as you age.
1. Prevent Disease
Studies have shown that maintaining regular physical activity can help prevent many common diseases, improves overall immune function, which is important for seniors as their immune systems are often compromised.
2. Improved Mental Health
The mental health benefits of exercise are nearly endless. Exercise produces endorphins (the "feel-good" hormone), which act as a stress reliever and leaves you feeling happy and satisfied. In addition, exercise has been linked to improving sleep, which is especially important for older adults who often suffer from insomnia and disrupted sleep patterns.
3. Decreased Risk of Falls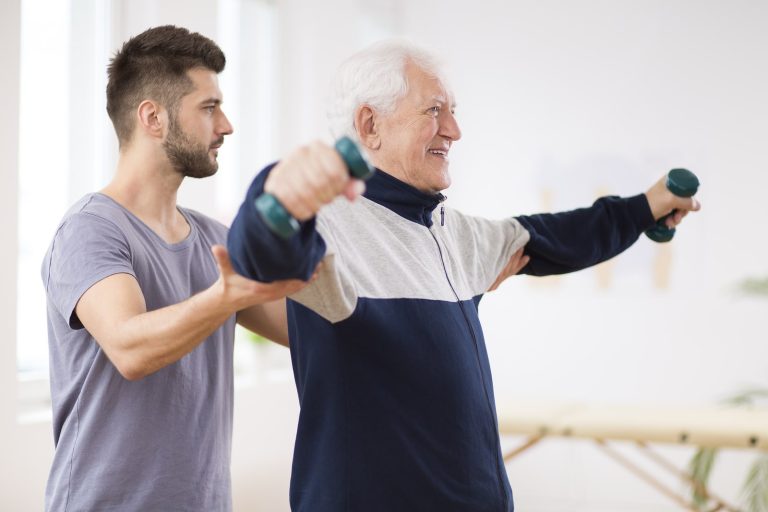 Senior man after stroke at nursing home exercising with professional physiotherapist

Older adults are at a higher risk of falls, which can prove to be potentially disastrous for maintaining independence. Exercise improves strength and flexibility, which also help improve balance and coordination, reducing the risk of falls. Seniors take much longer to recover from falls, so anything that helps avoid them in the first place is extremely important.
4. Social Engagement
Celebrating abilities exercise groups can be made into a fun social event. Maintaining strong social ties is important for ageing adults to feel a sense of purpose and avoid feelings of loneliness or depression. exercising with a group of people is so much fun.

5. Improved Cognitive Function
Regular physical activity and fine-tuned motor skills benefit cognitive function. Countless studies suggest a lower risk of dementia for physically active individuals, regardless of when you begin a routine.
This service exercise seniors can be funded by your NDIS package, under the following categories: Improved Capacity Building and Improved Health and well-being and or core works. we work with plan manged, self-managed and agent managed funds.
source: https://thegreenfields.org/5-benefits-exercise-seniors-aging-adults/